Discover more from Granted
Adam Grant's newsletter on psychology and work, delivered to over 250,000 readers.
Over 277,000 subscribers
GRANTED: The new books to read this fall and my virtual events with Kristen Bell and David Chang
September 2020
Kids are full of creative ideas, but too often they give up on them too soon. My wife Allison and I have watched own children draw beautiful pictures, only to crumble them up because they weren't satisfied with their work. Even when kids are excited to express their creativity, they can be easily discouraged by others. Psychologists find that in elementary schools, the most creative children are the least likely to be the teacher's favorite. They don't sit still, they don't color inside the lines, and they don't conform to every rule. Over time, they often learn to keep their imaginations to themselves.
 
Allison and I have written a children's book in the hopes of unleashing creativity. It's called Leif in the Fall, and it's about a leaf named Leif who's afraid to fall from his tree in the fall. With encouragement from his friend Laurel, Leif invents a series of contraptions to protect himself. But as the other leaves taunt him, he discards each invention as a failure. Just as Leif is about to give up, a surprise twist changes everything.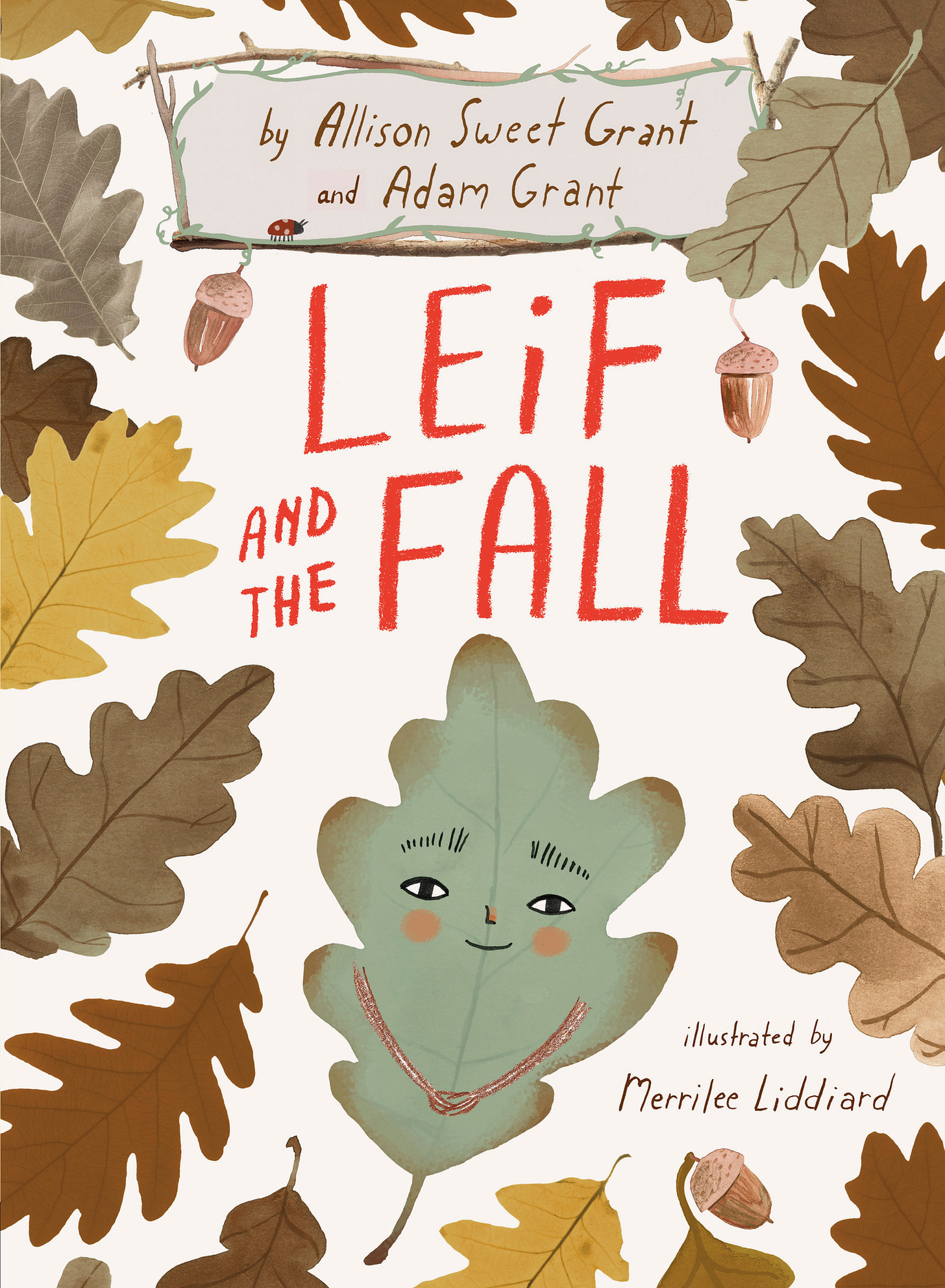 School Library Journal calls it "a clever and triumphant tale" and Kirkus describes it as "a polished, clever take." We wrote Leif and the Fall to encourage kids to persist with their original ideas. To our children's delight, it comes out tomorrow: you can order it here.
 
In celebration of the launch, I'm doing two virtual events to discuss creativity, failure, and motivation:
Saturday 9/12 at 11am ET: I'll be live with Momofuku chef and Ugly Delicious star Dave Chang, who's about to release his memoir Eat a Peach. Join us here.

Saturday 9/26 at 5pm ET: I'm at the Orange County Virtual Book Festival with Kristen Bell, star of The Good Place and Frozen and author of her own children's book The World Needs More Purple People. Watch us here.
Now, onto our regularly scheduled programming: my favorite insights on work and psychology from the past month.

1. The 300,000-Year Case for the 15-Hour Week (James Suzman, FT)
For over 95% of human history, people enjoyed more leisure time than we do today. Hunter-gatherers subsisted on 15-hour work weeks. Could we do the same?
Time is our scarcest resource. Long hours should be a choice, not a necessity.
 
2. Building Work-Life Boundaries in the Work from Home Era (Nancy Rothbard, HBR)
As the pandemic has forced many of us to blur the line between work and home, it's up to managers to help set boundaries. Good: committing to no emails and calls on nights and weekends. Better: asking people what times they need to protect.
 
3. What Is Privilege? (John Amaechi, BBC)
Privilege isn't just the presence of advantage; it's "the absence of impediment." Recognizing white privilege doesn't negate our hard work or hardships. It acknowledges that our skin color wasn't a barrier to success or a source of struggle.
 
4. Do You Want to Go to Grad School or Do You Just Need a Snack? (Rima Parikh, McSweeney's)
Every fall, I tell students that "my parents want me to get an MBA" and "I've always planned to get my PhD" might not be the best reasons to go to grad school. From now on, I'm just sending them this hilarious quiz.
From My Desk:

5. Kids Can Learn to Love Learning, Even Over Zoom (NYT)
In school and in life, success depends less on how much we know than on how much we want to learn. The purpose of education is not just to impart knowledge; it's to instill curiosity. Allison and I write about how teachers can start fueling intrinsic motivation through mystery, exploration, and meaning.
 
6. The Fall Idea Books to Teach You Something New (LinkedIn)
My fall reading list features new releases on building careers and companies, rebuilding our lives and institutions, including marginalized groups, thinking more clearly, entertaining others, and sustaining our energy, our workplaces, and our environment.
In solidarity,
Adam
Adam Grant, Ph.D.
Organizational psychologist at Wharton, author of ORIGINALS, GIVE AND TAKE, and OPTION B, and host of WorkLife, a TED original podcast