Discover more from Granted
Adam Grant's newsletter on psychology and work, delivered to over 250,000 readers.
Over 277,000 subscribers
GRANTED: Win a video chat with me and support COVID-19 relief
May 2020
In times of crisis, Mister Rogers advised us to look for the helpers. In the past two months, it's been moving to see so many people go further and become the helpers.

In that spirit, I've teamed up with Omaze to support COVID-19 relief efforts by offering you the chance to win a virtual discussion with me.
Enter at omaze.com/adam and use promo code GRANT50 for 50 extra entries.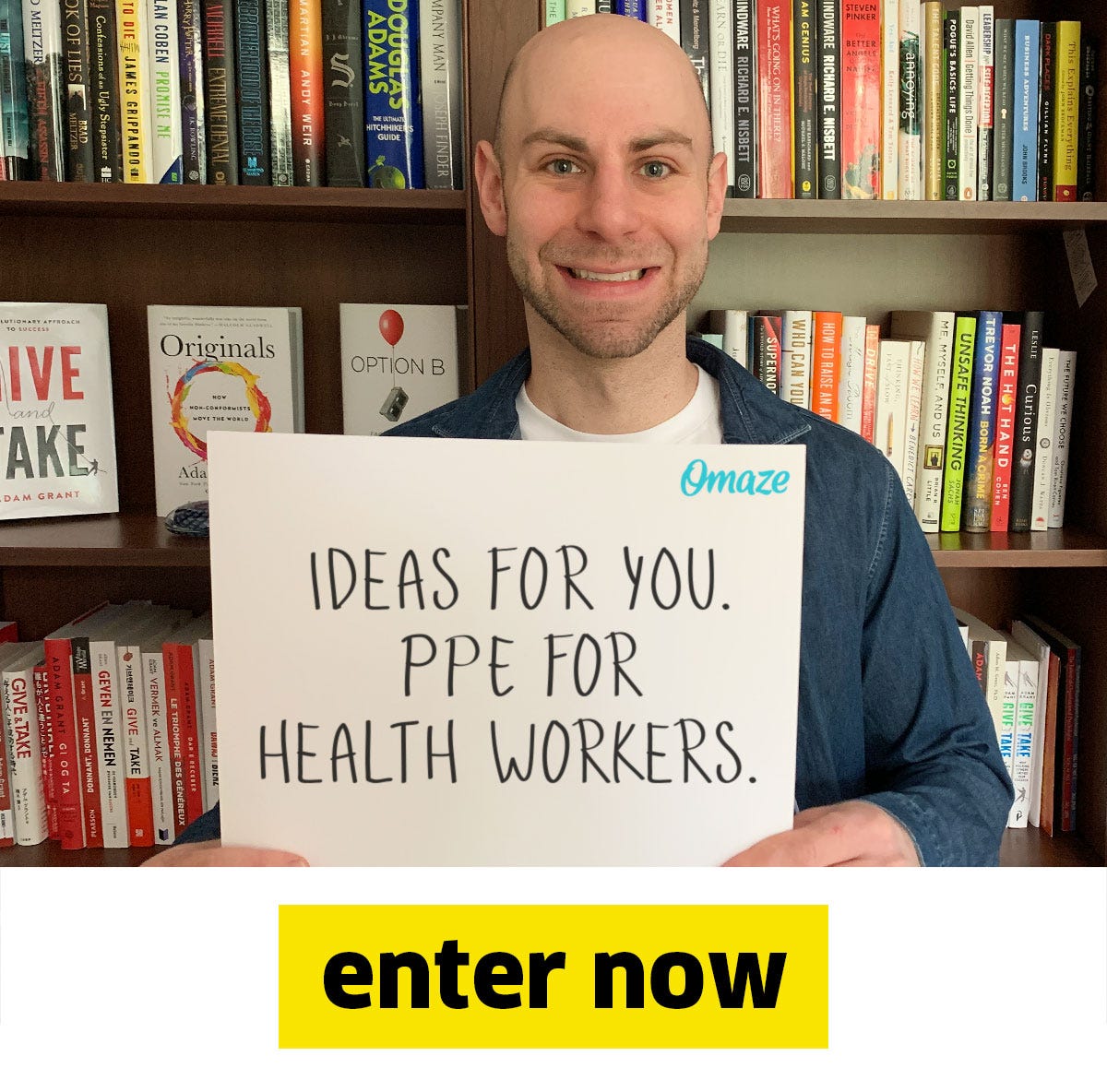 The winner and up to seven friends will join me over video chat to talk work and psychology. We can make it a book club, podcast club, office hours, or anything else you like. Every donation will help Direct Relief provide personal protective equipment to safeguard health workers.  
Now, onto our regularly scheduled programming: my favorite links from the past month.
1. What Good Leadership Looks Like During This Pandemic (Michaela Kerrissey & Amy Edmondson, HBR)
In crisis, leadership is not waiting, downplaying, deflecting, or justifying past actions. It's acting swiftly, communicating openly, taking responsibility for past mistakes, and making adjustments to improve future decisions.
 
2. The Science of Helping Out (Tara Parker-Pope, NYT)
One of the best anti-anxiety treatments available is generosity. Helping others reduces stress by helping us feel valued and capable. Talking through someone else's problems can give the wisdom—and the motivation—to tackle our own challenges.
 
3. How Falling Behind Can Get You Ahead (David Epstein, TEDx)
It turns out that for every Tiger Woods who specializes early, there are multiple Roger Federers who dabble in rugby, skiing, and wrestling before focusing on tennis. As the saying goes: "Jack of all trades, master of none... but oftentimes better than master of one."
New from My Desk:

4. Yes, Even Introverts Can Be Lonely Right Now (NYT)
Introverts crave connection too. Social interaction energizes all of us—some of us are just more easily overloaded by it. Introverts don't seek solitude. We want to be in touch without being overstimulated. Video calls optional, please!
 
5. Job Interviews are Broken. There's a Way to Fix Them (NYT)
Too many managers hire the smoothest talker instead of the person with the will and skill to excel in the job. Interviews should start with auditions, not questions. That way, candidates have a chance to showcase how they learn, solve problems, and collaborate.

Coming up on WorkLife this Tuesday: why career decline is not inevitable. Then the following week wraps up season 3 with an episode on the science of remote teamwork and resilience.
 
Speaking of resilience: since we're all living Option B right now, Sheryl Sandberg and I have released a new foreword and key sections of our book on resilience free. You can access it here.
In solidarity,
Adam
Adam Grant, Ph.D.
Organizational psychologist at Wharton, author of ORIGINALS, GIVE AND TAKE, and OPTION B, and host of WorkLife, a TED original podcast