Discover more from Granted
Adam Grant's newsletter on psychology and work, delivered to over 250,000 readers.
Over 277,000 subscribers
GRANTED: The real reason you procrastinate
"It's like going into a very cold lake... You put your foot in, you take it out... It's still too cold. You think, 'Am I gonna do this or not? No? Yes. No. Yes.' That goes on for a while. And then you, if you're going to do it, you run in screaming."

This is how Margaret Atwood, the acclaimed author of The Handmaid's Tale, describes procrastination.

She stars in the kickoff episode of season 3 of my TED podcast, WorkLife.

You can listen here, and if you're interested in discussing, I've started a podcast club on LinkedIn. It's like a book club, only for podcasts.

Procrastination isn't caused by laziness. We don't postpone tasks to avoid work. We do it to avoid negative emotions that a task stirs up-- like anxiety, frustration, confusion, and boredom.

You can change some of those emotions by showing yourself compassion. We procrastinate less when we remind ourselves that it's part of the human condition. We're not the only one suffering from it.

Margaret Atwood has a fun way of fighting procrastination. Along with her to-do list, she has a to-don't list: a set of activities to avoid while working. One of the big ones: don't go on social media when she's in her writing burrow. She holds herself accountable by tweeting that she's signing off.

It can help to schedule tasks in your calendar the same way you schedule meetings. In one experiment, writers were randomly assigned to plan daily writing sessions. Their productivity was more than quadruple the control group's.

You often procrastinate less when you have less time. At the New Zealand company Perpetual Guardian, people get to do a 4-day work week if they can prove they're productive. It gives them an incentive to stay focused.

The task you're avoiding isn't always the one you hate. Sometimes it's the one you fear. The one that's most worth pursuing. Take it from Margaret Atwood: she put off writing The Handmaid's Tale for 3 years because she thought it was "too batty."

Margaret tried writing a "more normal novel" instead, and when she wasn't happy with it, she realized there was nothing to fear. If you're going to do the task eventually, you might as well spare yourself the agony and start it sooner.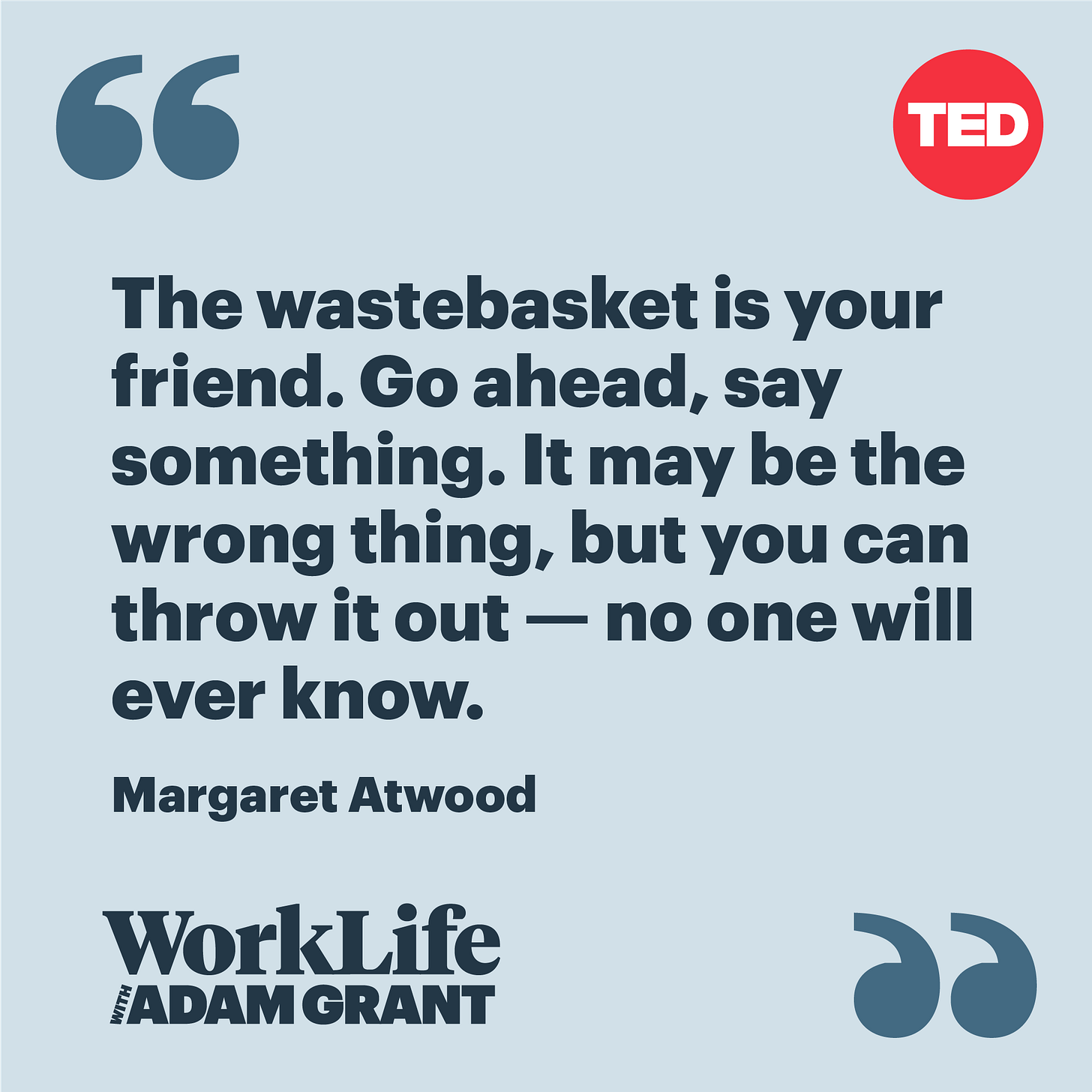 Head over to the WorkLife podcast club on LinkedIn to discuss what emotions you avoid while procrastinating, your favorite strategies for fighting it, and what's on your to-don't list.

New episodes of WorkLife come out every Tuesday this spring. Next week: burnout.
Cheers,
Adam
Adam Grant, Ph.D.
Organizational psychologist at Wharton, author of ORIGINALS, GIVE AND TAKE, and OPTION B, and host of WorkLife, a TED original podcast