Discover more from Granted
Adam Grant's newsletter on psychology and work, delivered to over 250,000 readers.
Over 277,000 subscribers
GRANTED: The new books to read this fall
September 2019
When you meet someone new, don't ask "What do you do?" It limits what people share about themselves to a job description. Instead, try "What do you love to do?" It ignites curiosity and invites people to express their distinctive interests.

Speaking of something new: in early October, to celebrate the launch of our children's book, my wife Allison and I will be on stage to talk about generosity at home, in schools, and at work. We'd love to have you join us; you can get tickets here for NYC, DC, and Boston.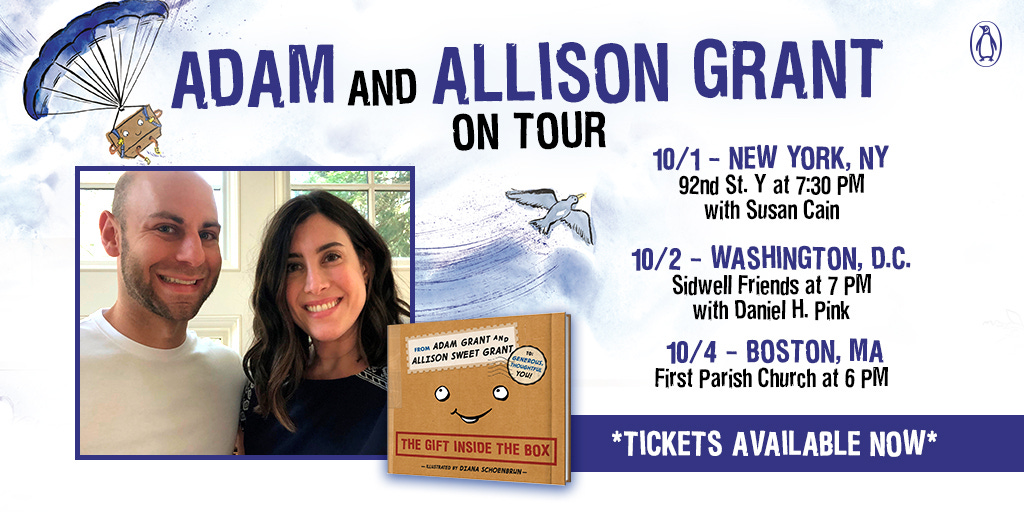 Now, onto your regularly scheduled programming:

1. To Really Learn, Our Children Need the Power of Play (WSJ)
Finland has one of the world's best education systems. Instead of standardized tests, they focus on joy in learning. Kids get 15 minutes of outdoor recess every hour. Why? "The work of a child is to play."

2. Ego is the Enemy of Good Leadership (HBR)
A core task of leadership is keeping your ego in check. Promote the people who challenge you, not the ones who flatter you. Accept the privileges that help you do your job more effectively, not the ones that make you feel superior.
 
3. How Life Became an Endless, Terrible Competition (Atlantic)
Harvard, Princeton, Stanford, and Yale have more students in the top 1% of family income than in the bottom 60%. Elite schools are reinforcing inequality, not meritocracy. It's long past time to open more doors to those with less.
 
4. The Mystery of the Miserable Employees (NYT)
Being a good manager is not rocket science:
-Hold frequent 1-on-1s with direct reports
-Make connections across departments
-Don't expect people to work nights and weekends
-Don't make people spend 27 hours a week in bloated meetings
 
From My Desk:

5. Does Diversity Training Work the Way It's Supposed To? (HBR)
Brief online training won't solve your diversity problems. In a big field experiment, colleagues and I found that bias training can improve attitudes for those who are less supportive, but only moves behavior for those who are already on board (primarily American women).
 
6. The New Fall Books on Behavioral Science, Leadership, and Life (LinkedIn)
My top picks explore how to have productive arguments, decide who to trust, change habits, play the long game, predict the future, promote equality, and fight distractions.
Cheers,
Adam
Adam Grant, Ph.D.
Organizational psychologist at Wharton, author of ORIGINALS, GIVE AND TAKE, and OPTION B, and host of WorkLife, a TED original podcast