Discover more from Granted
Adam Grant's newsletter on psychology and work, delivered to over 250,000 readers.
Over 277,000 subscribers
GRANTED: Your favorite reads of last year and the new leadership books to start this one
January 2019
What does it take to gain power, keep it, and use it responsibly?

Over the past year I've been exploring those questions in a project called Power Moves, an audio book that launched this week. It features evidence and interviews that I conducted about the changing nature of power with two dozen leaders and thought leaders at the World Economic Forum in Davos.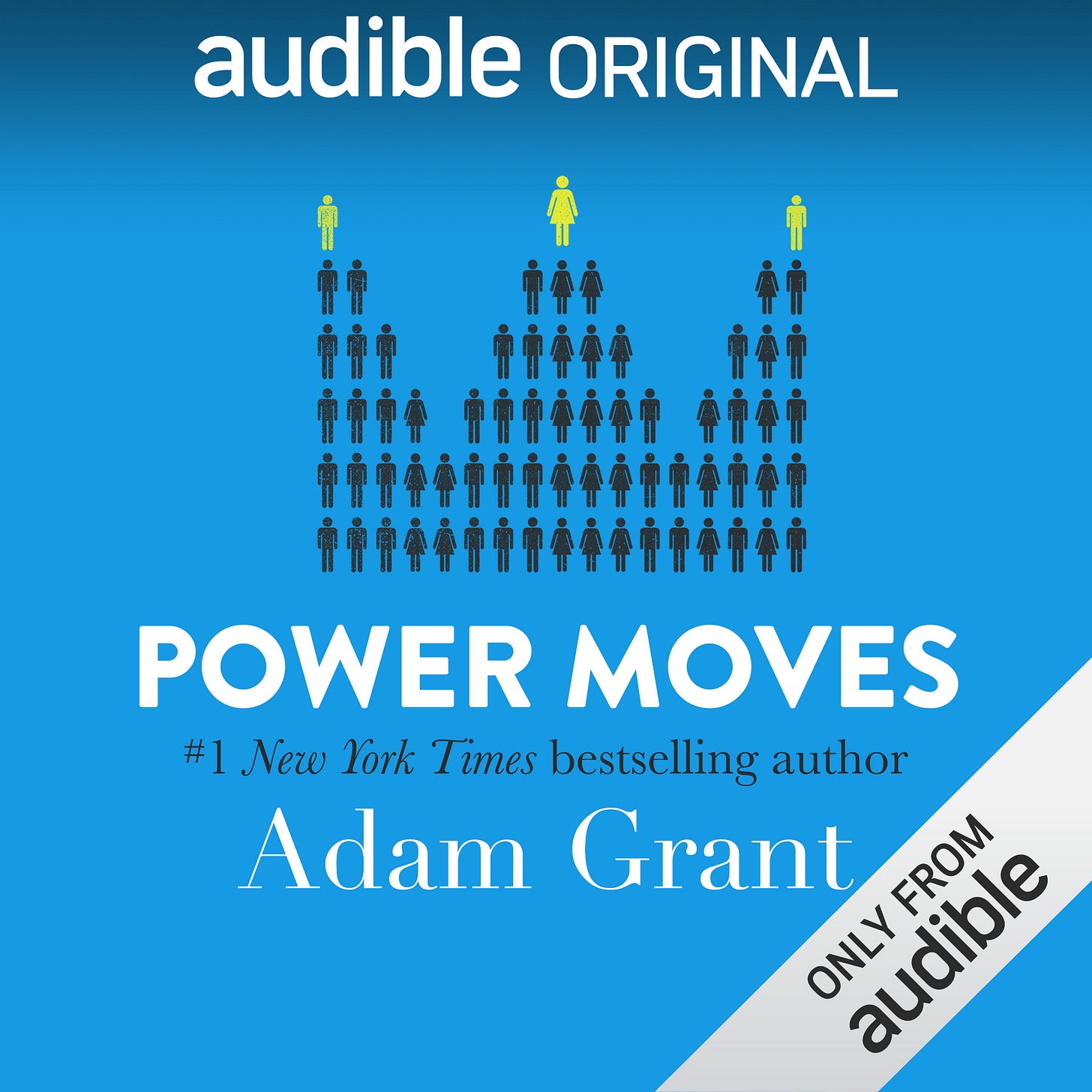 My biggest takeaway: power doesn't always corrupt. More often it reveals. As people gain influence, they feel free to show their true colors. The true test of character is how you treat people who lack power.


Looking back on 2018, here the articles that you found the most powerful:
1. How to Pick a Career (That Actually Fits You) by Tim Urban
The drop from naive overconfidence to realistic humility rarely feels good, but it's a necessary step toward wisdom.

2. Why Time Management Is Ruining Our Lives by Oliver Burkeman
Focusing on time management just makes us more aware of how many hours we waste. A better option is attention management: prioritize the people and projects that matter to you, and it won't matter how long they take. Disclaimer: it's a longish read, but I found it to be well worth the time.

3. What Self-Awareness Really Is (and How to Cultivate It) by Tasha Eurich
To become more self-aware, don't ask why you're the way you are—that often leads to rumination. Instead, ask what situations bring out the best and worst in you, and what you can do to improve.

4. The Tyranny of Convenience by Tim Wu
If your choices are always driven by what's easy, you'll miss out on the struggles that help give meaning to life. Let's not forget the joy of doing something slow and difficult.

And to bring in the new year...
 
From My Desk:
5. The 19 New Leadership Books to Read in 2019
In my view, good leadership books (a) introduce original ideas, (b) back them with evidence and experience, (c) bring them to life in an engaging way. Here are my favorite new releases for this year, exploring how to improve work, find courage, fuel innovation, and understand the past and future of humanity.

6. How Doing Favors for Others Can Make You Happier
Helping others doesn't require you to burn out; many requests can be fulfilled with 5-minute favors. On Good Morning America, Dan Harris came to cover the Givitas exercise that makes it easy for people to give and receive help.

On that note, we've already had over 200 offers of help in the free Givitas community for GRANTED subscribers that launched two weeks ago. If you're interested in checking it out, click here:  givitas.com/granted
Happy 2019,
Adam
Adam Grant, Ph.D.
Organizational psychologist at Wharton, author of ORIGINALS, GIVE AND TAKE, and OPTION B, and host of WorkLife, a TED original podcast