Discover more from Granted
Adam Grant's newsletter on psychology and work, delivered to over 250,000 readers.
Over 277,000 subscribers
GRANTED: Book Tour Details and Something Better than Gratitude
December 2015
Starting in February, I'll be on tour to launch my new book Originals: How Non-Conformists Move the World. It's about how we can champion our best ideas—and leaders can encourage others to think differently and speak up.

Here's the schedule:
In the meantime, here are some of the best articles I've recently come across:
1. Radical Candor—The Surprising Secret to Being a Good Boss
Kim Scott has an elegant recipe: care personally, challenge directly.

2. It's Better to Avoid a Toxic Employee than Hire a Superstar
One bad apple can cost a company twice as much as a star can save it. Nicole Torres discusses the new data on competent jerks and how to prevent them from spoiling the whole bunch.

3. We Like Leaders Who Underrate Themselves
Mirror, mirror on the wall: who's the most underrated of them all? In a recent study, modest managers were perceived as more effective than those who evaluated themselves accurately or optimistically.

4. 10 Types of Odd Friendships You're Probably Part Of
Tim Urban of Wait But Why puts a name to some of the strange connections we've all formed at some point, including such memorable characters as The Non-Question-Asking Friend and The Friend in the Group You Can't Be Alone With Under Any Circumstances. 

5. The Five Keys to a Successful Google Team
Google researchers set out to determine what sets successful teams apart. As Julia Rozovsky explains, the number one factor was psychological safety: when people feel free to take risks, they share diverse ideas. If we see a sudden spike in trust falls and ropes courses, you'll know who to blame.

6. Forces of Character: A Coversation with Gregg Popovich
An interview with the legendary San Antonio Spurs head coach about what makes a great teammate on and off the court: "Being able to enjoy someone else's success is a huge thing."

7. The Oxford Comma Is Extremely Important and Everyone Should Be Using It
In defense of the Oxford comma: a fun read on why seemingly irrelevant grammar actually matters. 
From My Desk:

8. Instead of Just Being Grateful, Try This
This holiday season, don't just count your blessings. Count your contributions, too. Gratitude is a temporary emotion; generosity is a lasting value. Reflecting on what you've given can be an even more powerful motivator than thinking about what you've received.

9. The One Question You Should Ask About Every New Job
My latest NYT column explores how to figure out the culture of an organization. Hint: instead of asking people to describe it, ask them to tell you a story about something that happened there but wouldn't elsewhere.

In January, check out The Peak Work Performance Summit. It's an online conference about leveraging evidence to live happier and more productive lives. You can register here.

Thank you for reading—I hope you found something you enjoyed. May your holidays be full of radical candor and only the best apples. See you in 2016.


Cheers,
Adam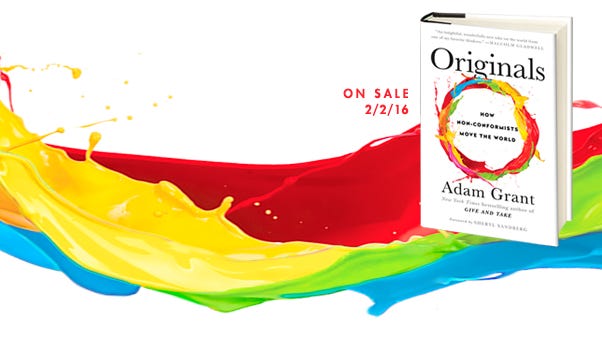 Adam Grant, Ph.D.
Wharton professor and author of GIVE AND TAKE and ORIGINALS